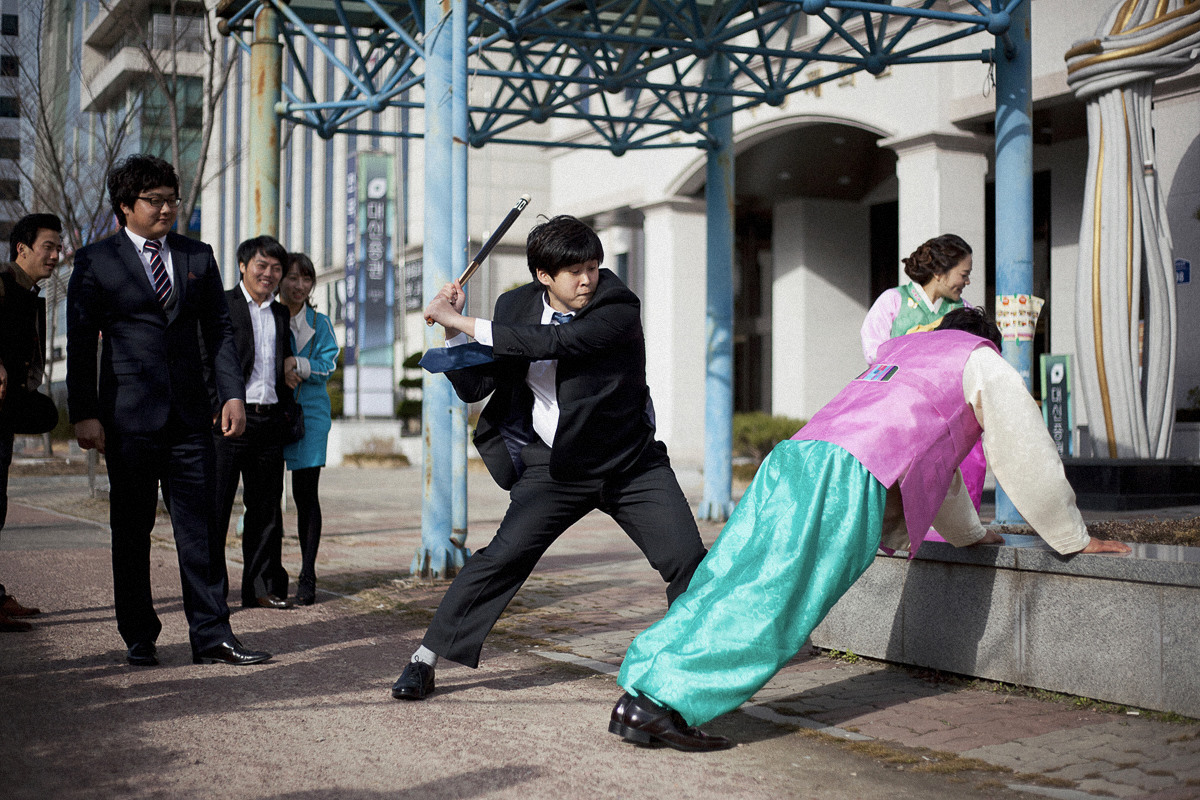 Man Getting Hit with Pool Cue
Bride & groom on their wedding day in Sangmu. Man's friends hit him with pool cues as a ritual.
Woman Torching Pig Heads in Market
Women at a traditional market in Gwangju torching pigs head, which are used for luck (called Gosa).
Ajumma With Scarf
Portrait of an old woman in Yangdong Market (양동시장), Gwangju wearing headscarf.
Ahjussi in Argyle
Dramatic portrait of a man in Yangdong Market (양동시장), Gwangju.
Portrait with Bag on Head
Portrait of an old woman in Yangdong Market (양동시장), Gwangju balancing a bag on her head.
Ahjussi With Gold Tooth
Portrait of a man in Yangdong Market (양동시장), Gwangju with a gold tooth.
Mushrooms and Fish Vendor
Woman selling fish next to mushrooms for sale in Sangmu's weeksly street market on 35mm.
Saigon Pet Shop
Man in hat sells puppies from his motorcycle in Ho Chi Minh City, on 35mm film.
Buddha and Kimchi Pots
A buddha statue amongst kimchi pots, pictured next to foliage.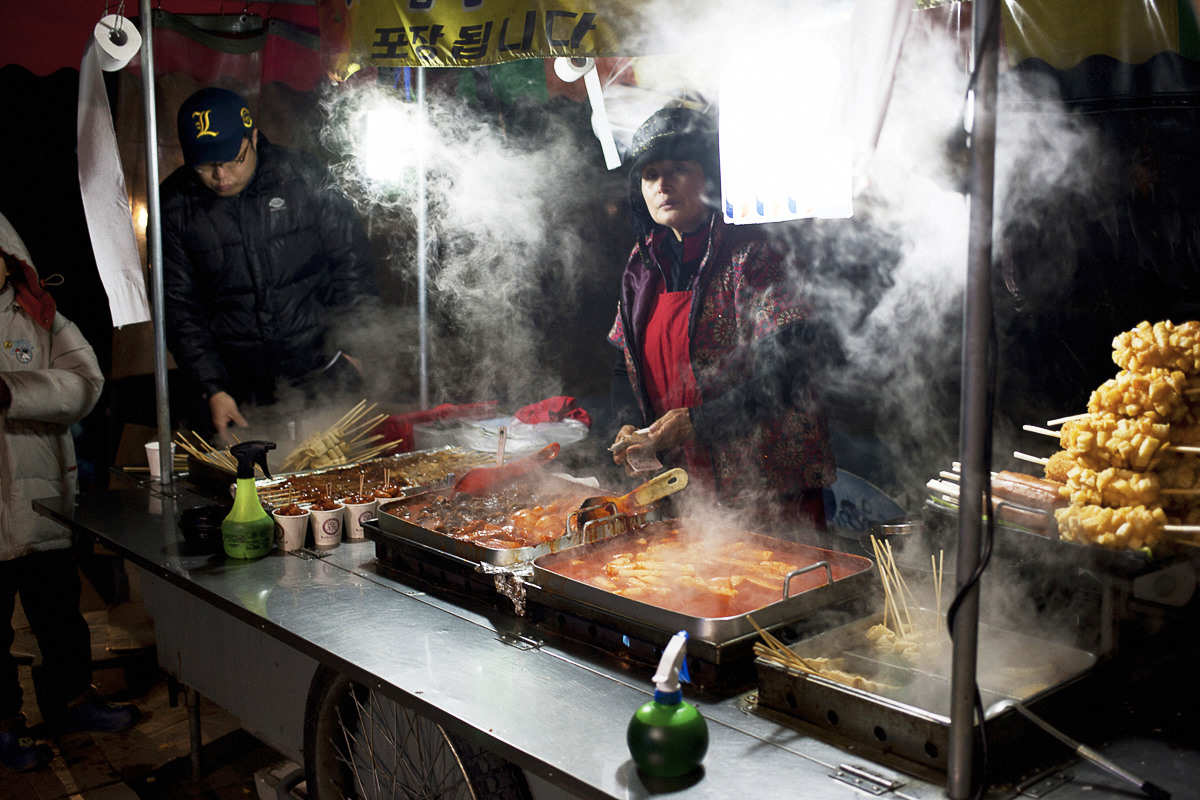 Chondae Humun Food Vendor
Woman sells street food like tteokbokki at Chonnam National University 전남대학교 at night.
Buddhist Temple & Groundskeeper
Groundskeeper at a buddhist temple in South Korea performs his daily chores.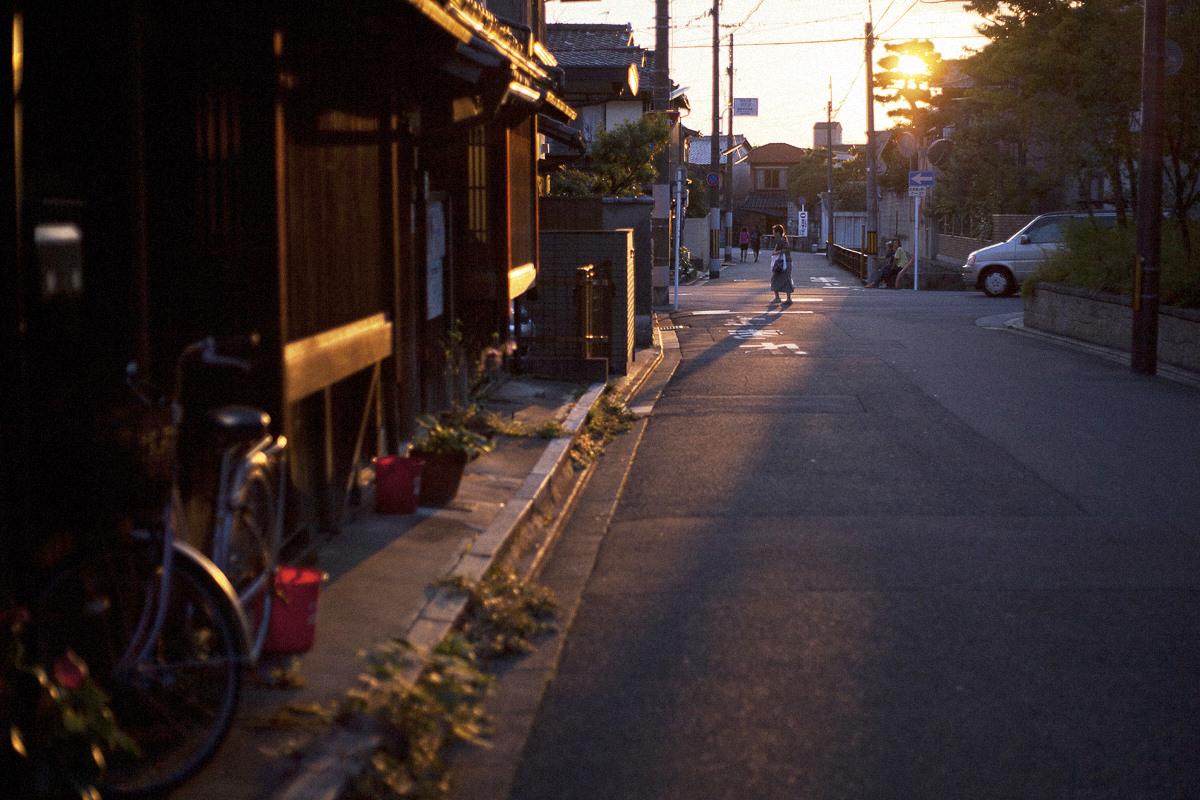 Kyoto Sunset
The sun sets on this traditional street in Kyoto, Japan.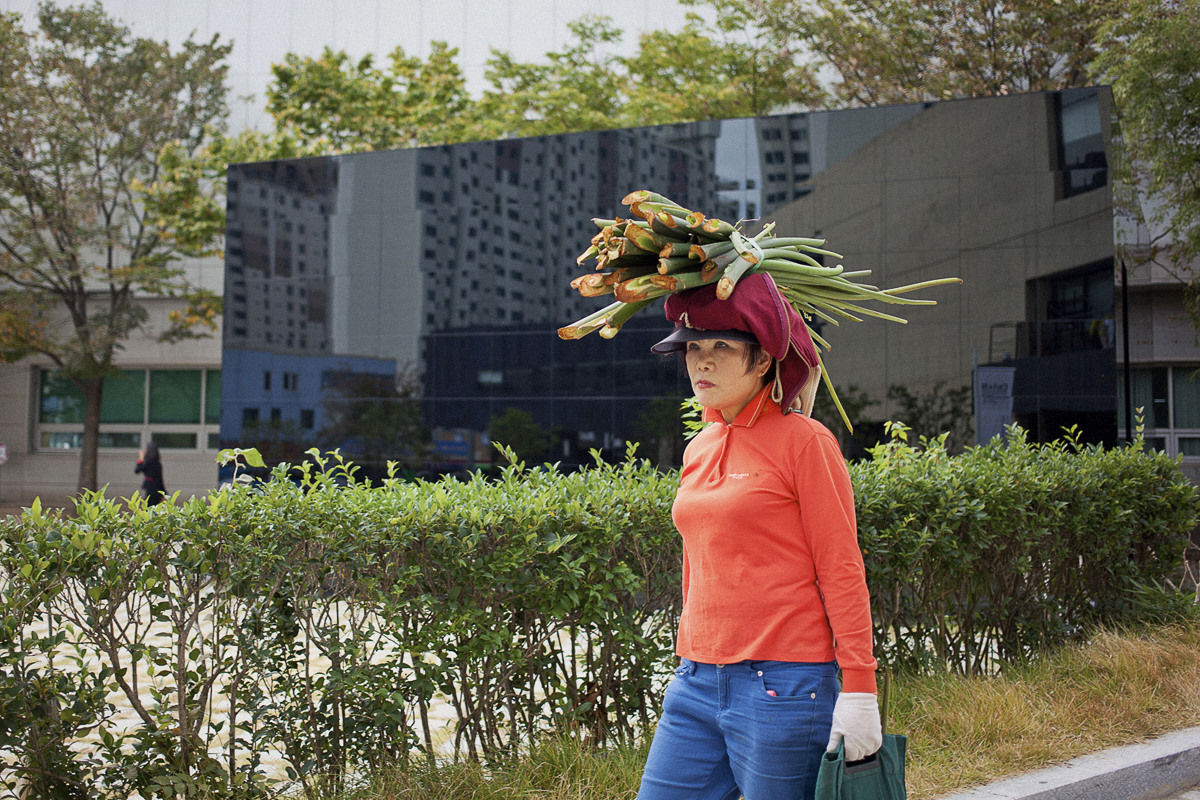 Women Balancing Sticks
Women in red balancing goods on her head at Biennale Hall in Gwangju's Jungoui Park.
Two Kids on Bike
A boy riding a bike with small girl on the back down a street in central Saigon, Vietnam.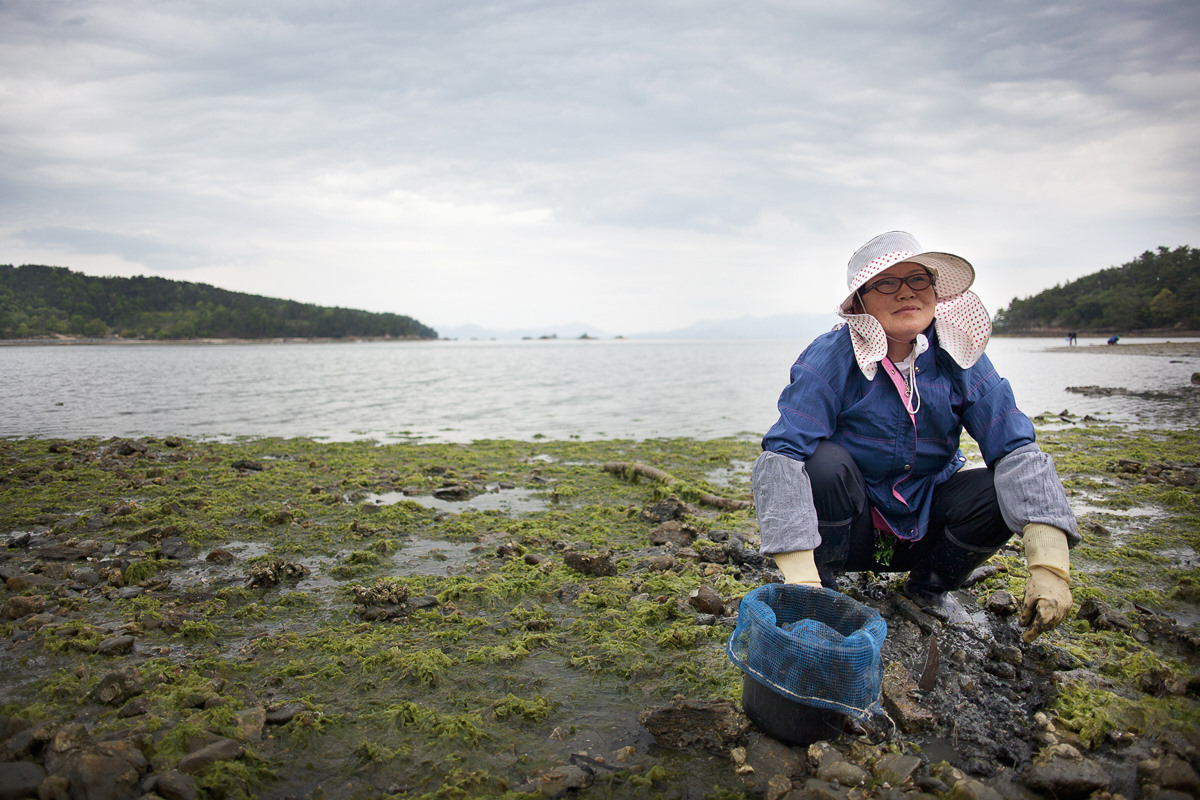 Clam Fishing
A women poses for portrait while collecting shellfish on Sorok Island, South Korea's Southern coast.
Two Girls Exit Subway
Two students dressed in black exit the subway in downtown Gwangju during fall.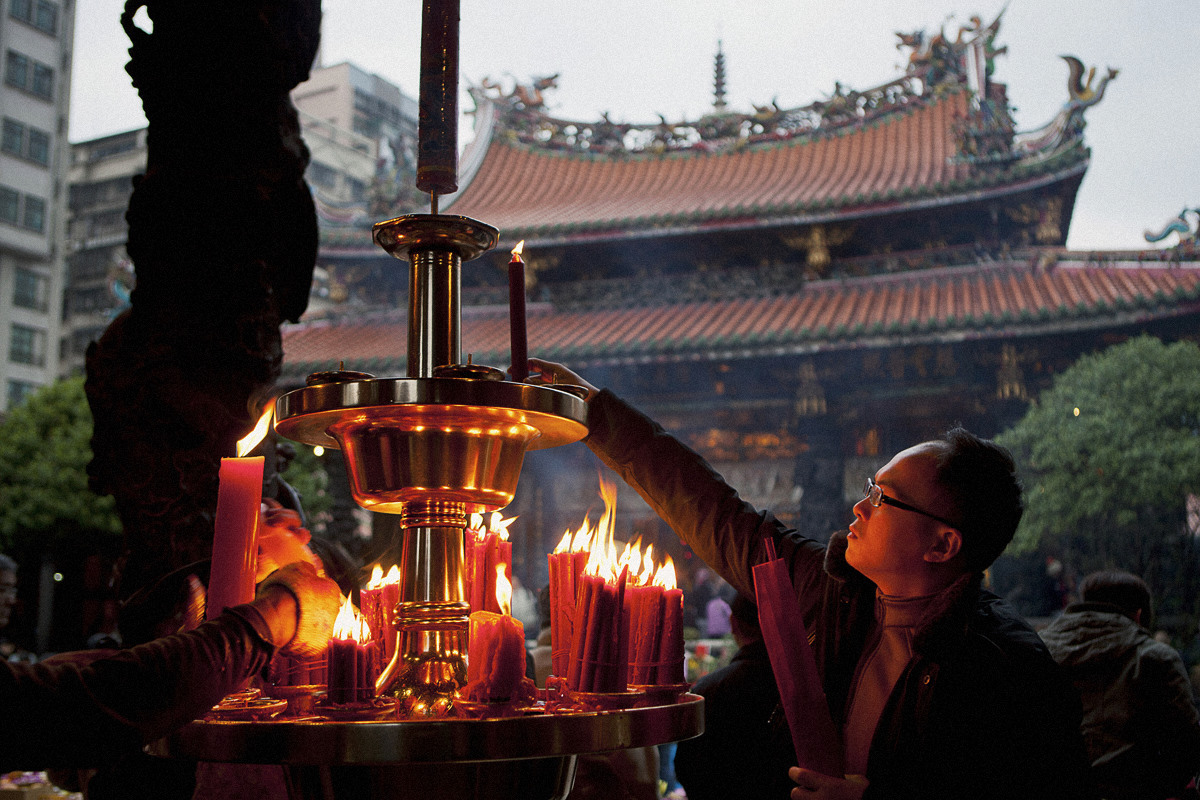 Man Lighting Candle in Taipei
Lighting ceremonial candles at a Buddhist Temple on New Years Day in Taipei, Taiwan.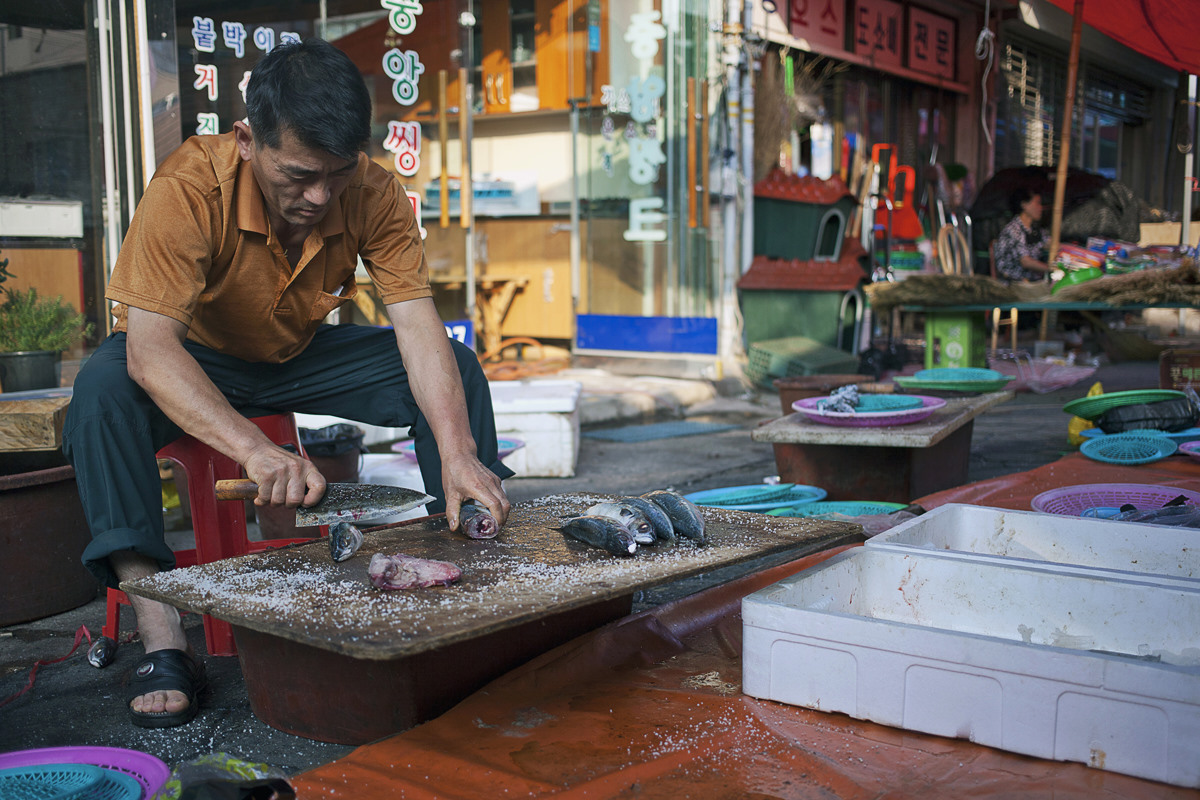 Cleaning Fish
Man cleans fish at an outdoor market near Gwangju's Songjeong KTX Station - 광주송정역.
Nap Time in Saigon
Women naps under her hat in Ho Chi Minh City, Vietnam.
Tomato Vendor
A lady organizes her tomatoes for sale during a street market day in Gwangju, South Korea.
Ajumma and Fish For Sale
A lady at an open air market next to some fish for sale in Seo-Gu (서구).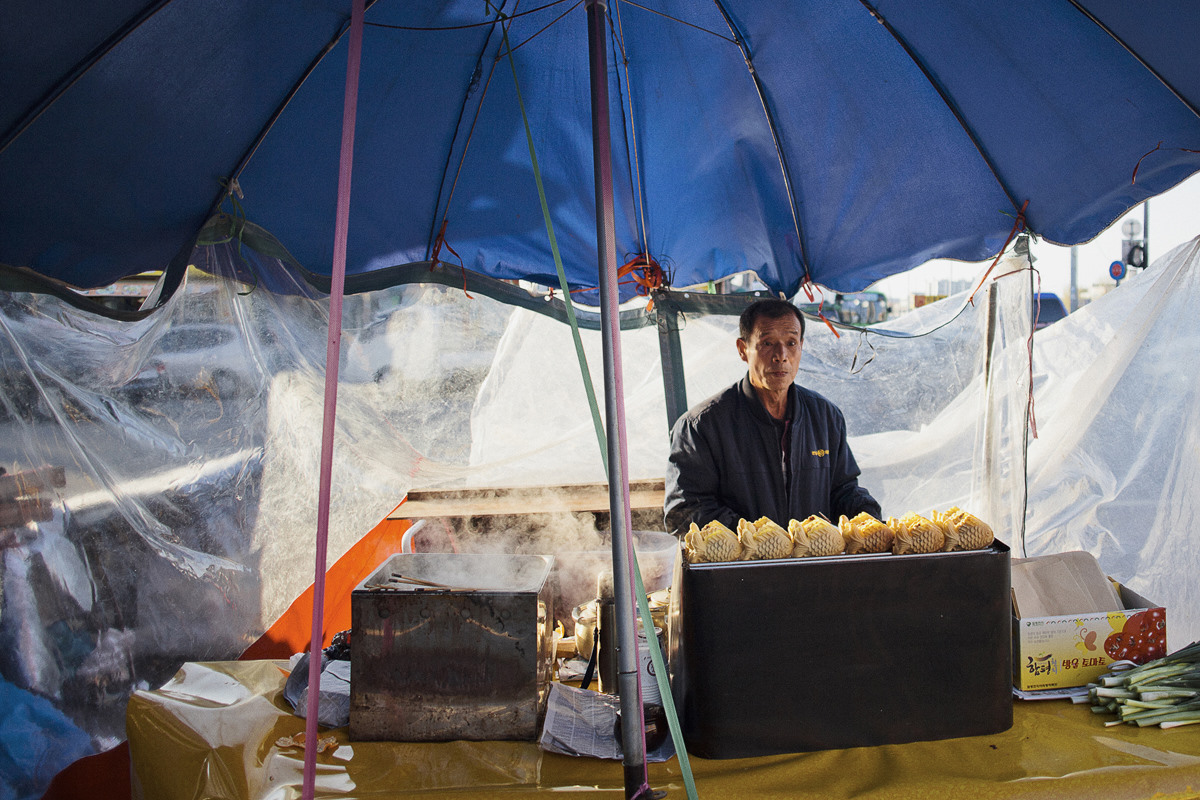 Korean Fish Bread
Selling Bungeo-ppang 붕어빵 (fish shaped bread filled with sweet red bean paste) at Yangdong Market.
Smoking Man and Fish For Dinner
Left - an man smokes a cigarette, Right - Restaurant cook brings fish to be prepared in Sangmu.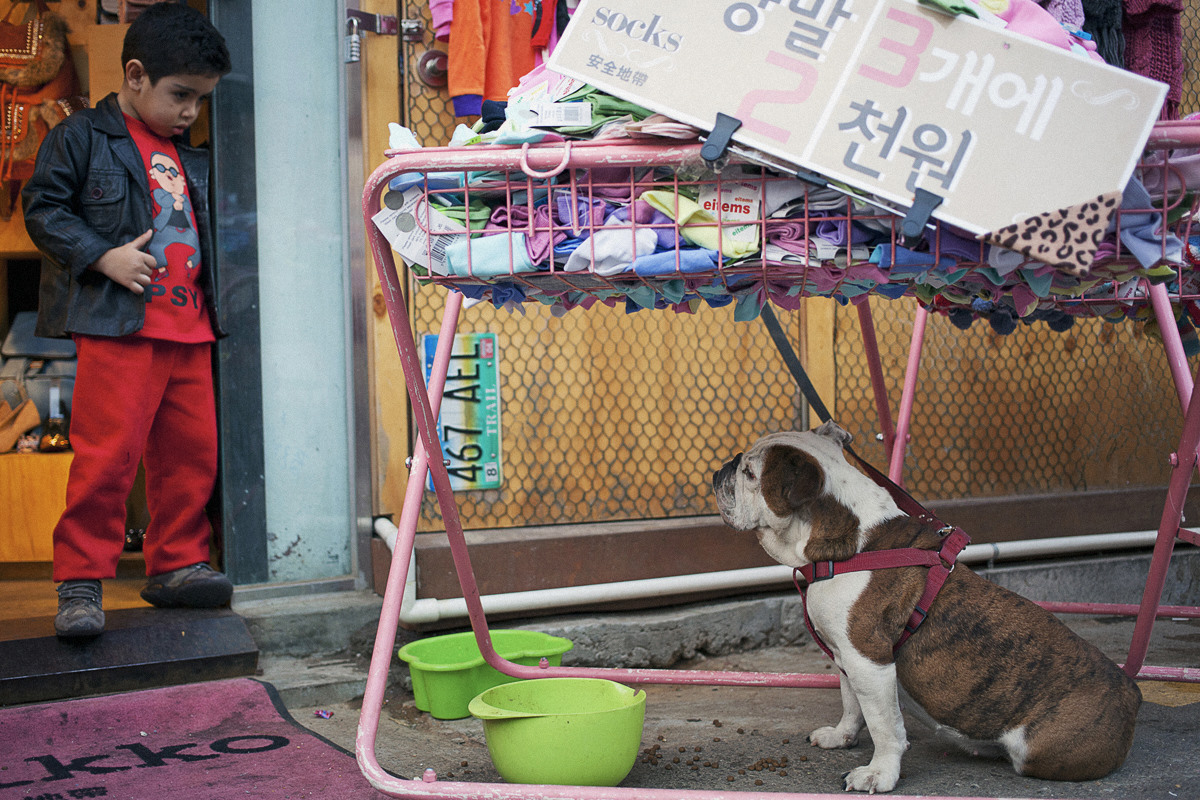 Dog and Boy in Seoul
A french bulldog stares at little boy wearing a Psy shirt outside of a shop in Seoul, South Korea.
Man, Wife, and Wheelchair
A man and his wife picnic by a wheelchair next to a river in Kyoto during May's Aoi Matsuri (葵祭).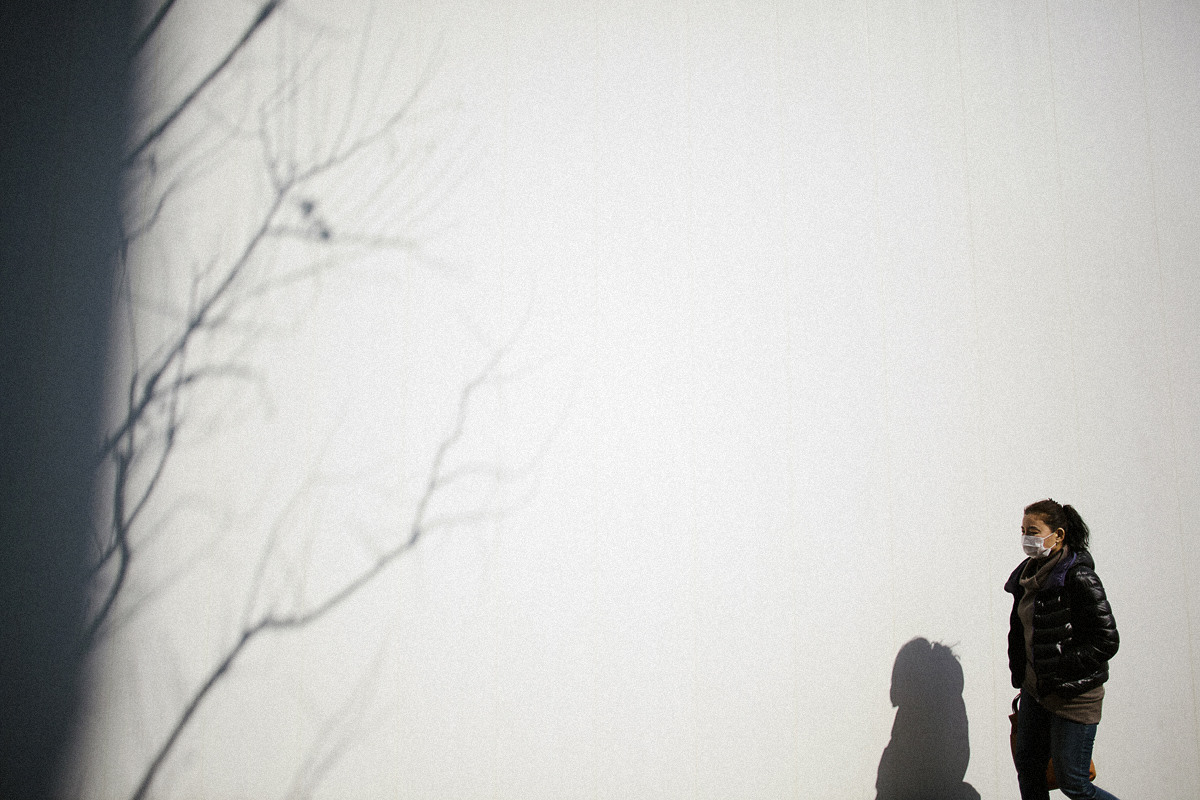 Minimal Fall City Scene
A women walks in downtown Gwangju during a cold winter day.
Fall Sunset
Girl walks through downtown Gwangju during a fall sunset.
Butcher in Saigon
A butcher cuts meat at open air market in central Ho Chi Minh City.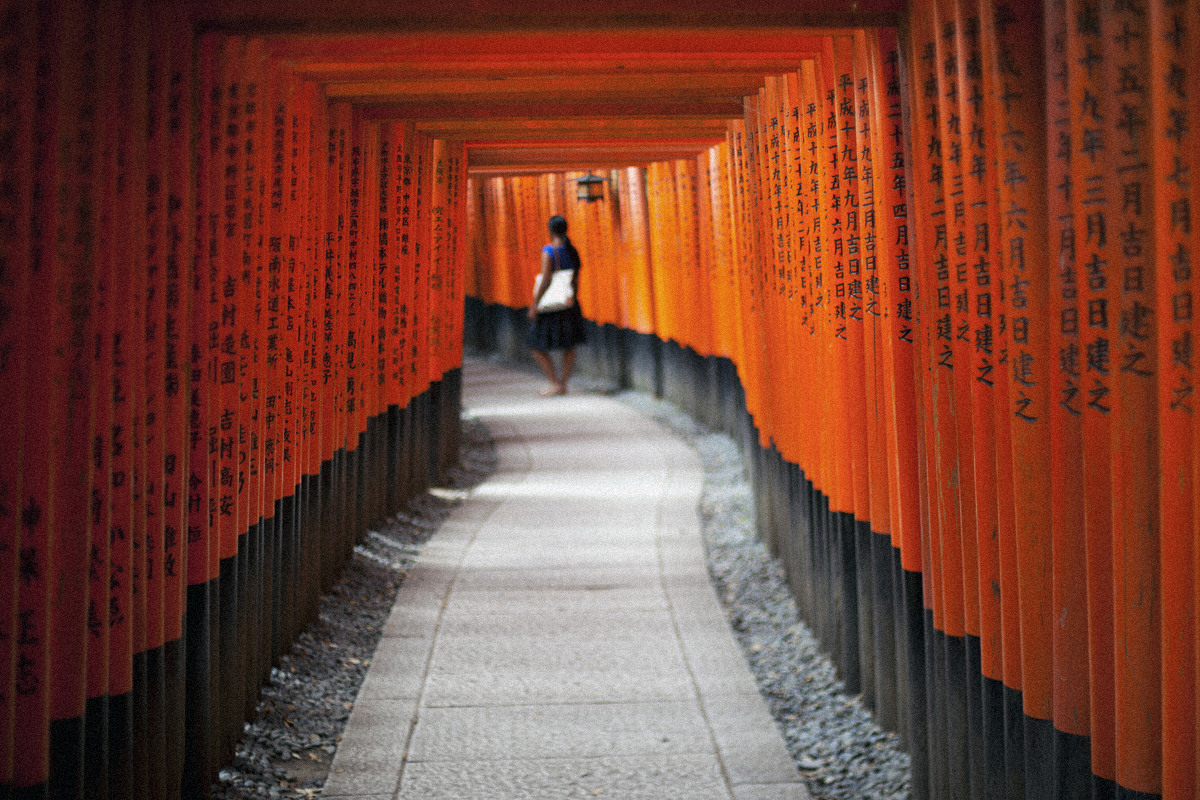 Torii Gate at Fushimi Inari Shrine
A lone visitor walks through the giant red Torii Gates at Fushimi Inari Shrine 伏見稲荷大社 in Souther Kyoto, Japan.
Bike Rider at Yangdong
A man rides his bike through Yangdong Market in Gwangju on a cold winter day.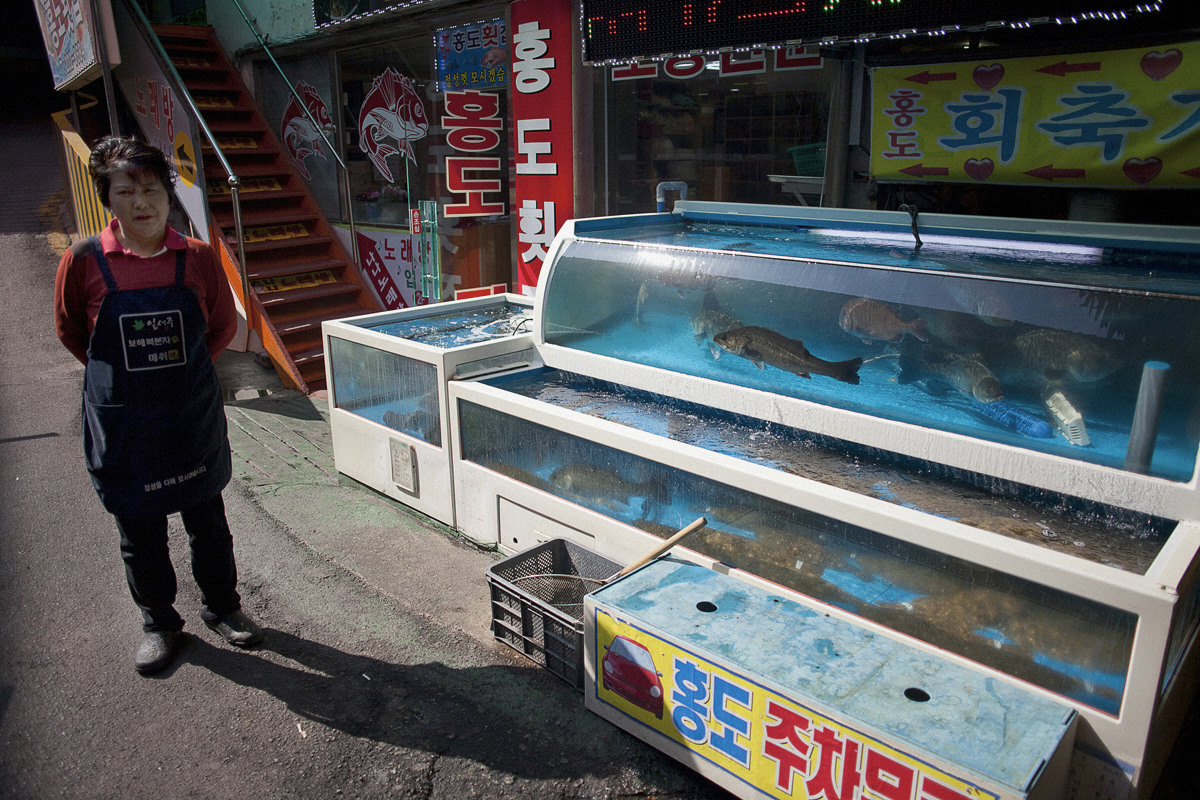 Fish Cook
A cook at a fish restaurant stands next to her tanks full of live seafood.
Garlic Farmer in Namhae
A Korean farmer cleans garlic in Namhae County 남해군 on the southern tip of South Korea.
Gwangalli Beach
Gwangalli Beach 광안리 해수욕장 in Busan, South Korea.
Mini Mart and Playground
A small market next to a playground in Gwangju.
Walking to Lotte Mart
Commuters out for the evening near Lotte Mart in Sangmu.
Coffee and Woman on Stairs
Patrons of a coffee shop next to a solitary woman on stairs.
Watermelons and Succulents
A man next to a truck load of watermelons for sale, pictured next to a crate of succulents.
Scallions For Sale
A vendor prepares scallions 파 to sell at an open air market.
Red Peppers and Vegetables
Giant bags of dried chili peppers for sale next to an assortment of vegetables.
Ho Chi Minh Fruit Vendor
A woman sells oranges and apples from her cart in Saigon.
Fresh Vegetable Shopping
An assortment of cabbage, peppers, sweet potato, and radish at Sangmu's Friday Street Market.
School Kids Going Home
Saigonese students leave school and board the bus in their uniforms.
Bananas and Stylish Kid
Bananas for sale next to a student walking on the street.
Grains and Fish Cutter
Bags of almonds and grains next to a man preparing fish for sale.
Students
Mountain Landscape
A scenic view of a valley.
Place Settings at Temple
Beautiful place settings at Buddhist temple restaurant in 5.18 Memorial Park (5.18 기념공원) in Gwangju.
Sugar-Apple
A man reads the newspaper at his mãng cầu Xiêm stand.
Men Walking
Three older men walk down a sidewalk next to a vacant Sangmu street.
Damyang Street Carnival
A carnival ride in Damyang 담양군 during Damyang Bamboo Festival (담양대나무축제) in Jeollanam-do.
Crabs and Squid Preparation
A tank full of fresh crab next to restaurant workers preparing cuttlefish for that days service.
Crosswalk and Beautiful Flowers
A person crossing a crosswalk in Seo-gu next to a shadow in vibrant pink flowers.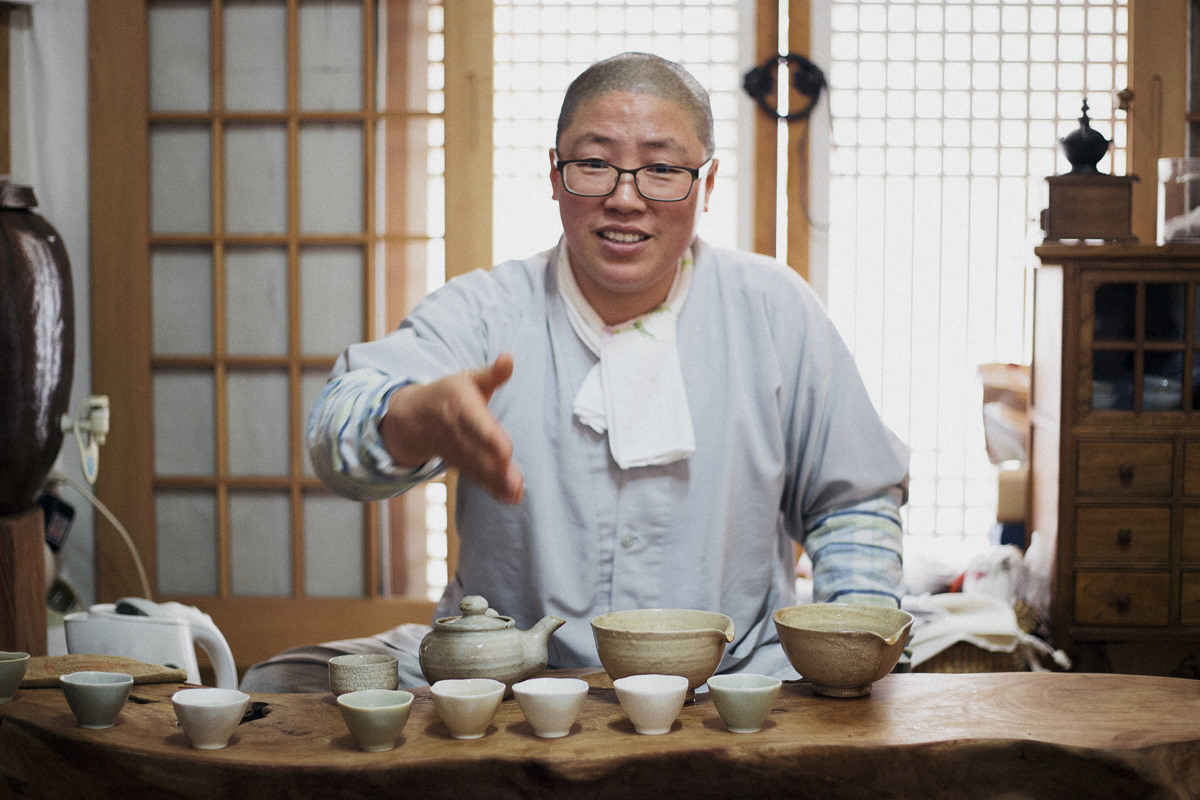 Monk Serves Tea
A Buddhist Monk prepares and serves tea during a ceremony at a mountain temple.
Desk Man and Police Officer
A man reads the newspaper at his desk, pictured next to a Korean Police Officer walking.